Whether you're just discovering mindfulness or have been practicing for years, the movie will provide you with resources to learn new ways of bringing mindfulness to your life, your relationships, your community & the world. Also, check out the items related to the film in our online shop.
Click below to Stream or Download now directly from the Independent Filmmakers & you'll also get 4 free Resource Videos: Sharon Salzberg guided meditation to reduce anxiety, Diana Winston mindful movement exercises, George Mumford interview about mindfulness & resilience, & a guided meditation in Spanish by Clarisa Romero.
Click one of the icons below to rent or buy the movie only (no Resource Videos) on:
Group Viewing Licenses
Want to host a virtual viewing event at your Business/School/Conference/etc? Please support the independent filmmakers by purchasing the appropriate group viewing license below. For larger groups/events or affiliate screenings where you keep a portion of revenue please contact us at [email protected]
Welcome to The Mindfulness Movement –
the Who, What, Where, When, Why and How of secular, science-based mindfulness
Join the Movement to create a healthier, happier world by using mindfulness to:
Calm your mind & reduce stress
Limit screen time & connect more with others
Enjoy potential health benefits such as reducing blood pressure, chronic pain and inflammation
Learn how to listen, eat & even walk mindfully
Help others by sharing the benefits of mindfulness & the resources here with them
It's all about making more moments matter in your life!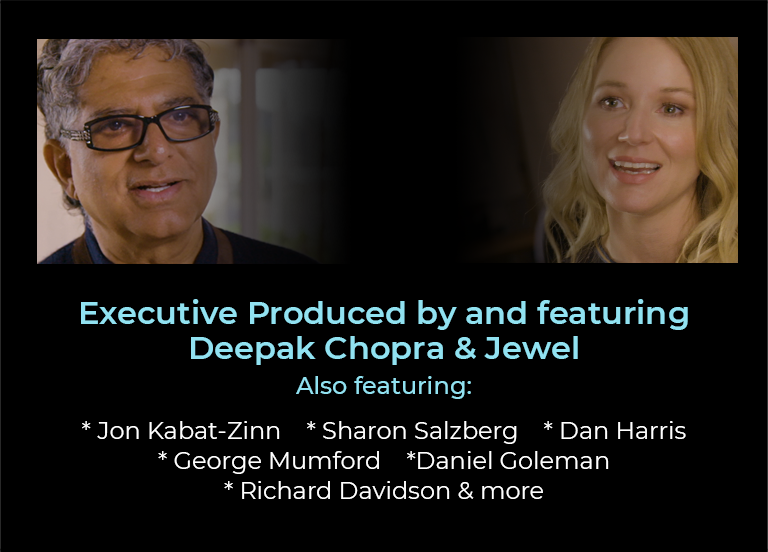 "The way I define Mindfulness is paying attention to our present moment experiences with openness and curiosity and a willingness to be with what is. It's a quality of attention that we can have at any moment whether we're walking down the street or talking to a friend or eating or brushing our teeth. We can bring that quality of awareness to our experience."
Diana Winston, Director of Education, UCLA Mindful Awareness Research Center

"Every time you put your mind on your breath and then it wanders, that's what the mind does, and you notice it wandered and then you bring it back, you're strengthening the neural circuitry for paying attention. This is quite a parallel with going to the gym and lifting weights. Every time you lift that weight, every repetition strengthens that muscle just a little bit more."
Daniel Goleman, Psychologist, best-selling author of "Altered Traits," "Emotional Intelligence" & more

"There's no moment that's not a wonderful moment for mindfulness. And it offers us degrees of freedom so that we can navigate the inevitable ups and downs of life."
Jon Kabat-Zinn, Founder, The Center for Mindfulness, UMass Medical School

"Mindfulness isn't just to get relaxed and to be calm, it's really about cultivating wisdom so that we eradicate or alleviate suffering."
George Mumford, mindfulness teacher & Author of "The Mindful Athlete"